Skip to Main Content
It looks like you're using Internet Explorer 11 or older. This website works best with modern browsers such as the latest versions of Chrome, Firefox, Safari, and Edge. If you continue with this browser, you may see unexpected results.
Welcome: Cuesta Virtual Book Club Spring 2022
Author Nikole Hannah-Jones
Photo courtesy of John D. & Catherine T. MacArthur Foundation
Nikole Hannah-Jones is an award-winning investigative reporter who covers civil rights and racial injustice for The New York Times Magazine. You can learn more about her life and work at her website.
Context and Controversy
Publication of The 1619 Project has prompted debate and political action in the United States about the role of slavery in the country's history. This article from Wikipedia provides a comprehensive, cited overview of the project's publication and reception.
At the same time, author Nikole Hannah-Jones was under review for tenure (a form of permanent academic job security) at the University of North Carolina, Chapel Hill (UNC). The UNC Board of Trustees declined to vote upon her tenure application, effectively denying it, but later reversed their decision and offered her tenure only after student protests and international media attention. Hannah-Jones declined UNC's offer, instead choosing a position at Howard University, a historically black institution. You can read the author's press release about her tenure fight and decision to leave UNC here.
Video Introduction
This brief [3 minute] video provides an introduction to The 1619 Project by author Nikole Hannah-Jones. She says, "I wanted us to finally talk as a country about the modern legacy of slavery and to realize that this is not just something that happened a long time ago, that all of us as Americans are living with the consequences of that decision that occurred in 1619." Click the image above to access the video.
Where to Get the Books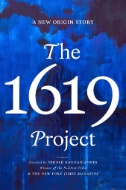 "The animating idea of The 1619 Project is that our national narrative is more accurately told if we begin not on July 4, 1776, but in late August of 1619 when a ship arrived in Jamestown bearing a cargo of twenty to thirty enslaved people from Africa. Their arrival inaugurated a barbaric and unprecedented system of chattel slavery that would last for the next 250 years. [The book places] the consequences of slavery and the contributions of Black Americans at the center of the story we tell ourselves about who we are as a country" (Publisher's summary).
Access the 1619 Project: A New Origin Story eBook through Cuesta library by clicking the image above. Or find a print copy at this link.
---
"Stymied by her unfinished family tree assignment for school, a young girl seeks Grandma's counsel and learns about her ancestors, the consequences of slavery, and the history of Black resistance in the United States." (Publisher's summary).
Find options for checking out Cuesta Library's print version of Born on the Water by clicking on the image above.