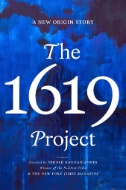 "The animating idea of The 1619 Project is that our national narrative is more accurately told if we begin not on July 4, 1776, but in late August of 1619 when a ship arrived in Jamestown bearing a cargo of twenty to thirty enslaved people from Africa. Their arrival inaugurated a barbaric and unprecedented system of chattel slavery that would last for the next 250 years. [The book places] the consequences of slavery and the contributions of Black Americans at the center of the story we tell ourselves about who we are as a country" (Publisher's summary).
Access the 1619 Project: A New Origin Story eBook through Cuesta library by clicking the image above. Or find a print copy at this link.
---
"Stymied by her unfinished family tree assignment for school, a young girl seeks Grandma's counsel and learns about her ancestors, the consequences of slavery, and the history of Black resistance in the United States." (Publisher's summary).
Find options for checking out Cuesta Library's print version of Born on the Water by clicking on the image above.